Welcome to the Ultimate Guide on men's suit size charts, expertly curated by the esteemed MrGuild men's suit specialists. Our goal is to equip you with the knowledge and confidence to effortlessly select the ideal fit, regardless of whether you are shopping online or in person. Every discerning gentleman deserves the assurance of a suit that fits impeccably, and you should embrace the opportunity to embark on this transformative journey.
Understanding Suit Sizes
Before delving into the process of finding your perfect suit fit and taking measurements, it is crucial to grasp the fundamentals of understanding suit sizes.
Firstly, when examining a suit jacket's size label, you will come across a number, usually ranging from 34 to 52, accompanied by one or two letters. The numbers represent the chest size of the jacket itself, distinct from your chest measurement (we'll delve into that shortly).
Typically, these sizes are offered in even numbers for ease of selection.
Next, it's necessary to consider the jacket's length. Jackets are commonly available in short (S), regular (R), and long (L) lengths. MrGuild goes the extra mile by offering additional sizing options, catering to those who require extra short (XS) or extra long (XL) sizes.
Essential Measurements for Perfect Jacket Fit
Now, we unveil the mystery behind the tape measure, transforming it into a magical instrument that sculpts your silhouette with precision and finesse.
Chest Size: To assess the jacket's dimensions, we consider the circumference of the chest. This crucial measurement encompasses the fullest part of the chest, extending beneath the armpits and across the shoulder blades.
Waist Size: Waist measurement is essential to determine how tightly the jacket will fit around the waist. This dimension is taken around the natural waistline, typically positioned above the navel and below the ribcage.
Sleeve Length: A significant factor in jacket customization is the sleeve length. This particular dimension is derived from the shoulder seam to the desired length, usually at the base of the thumb when the arm is slightly flexed.
Jacket Length: The jacket length measurement is pivotal in defining its overall length. Measured from the base of the collar to the jacket's bottom, this dimension may vary depending on personal preference and prevailing fashion trends.
Shoulder Width: The shoulder width measurement is indispensable in ensuring a proper fit across the shoulders. It involves measuring the distance from the outer edge of one shoulder to the outer edge of the other shoulder.
For those seeking professional measurements, it is recommended to locate a nearby tailor. Nevertheless, if you prefer to take precise self-measurements, here are some valuable tips to consider:
Wear a shirt or t-shirt and ensure your trouser pockets are empty during the measuring process.
When measuring circumferences, keep the tape measure parallel to the floor, maintaining a horizontal alignment.
Avoid pulling the tape measure tightly; instead, allow it to lie flat against your body.
Hold the tape measure from the right end consistently throughout.
Record your measurements accurately without adding or subtracting any additional centimeters for a truly authentic profile.
Different Cuts and Styles of Suits and How They Affect Sizing
As you explore the realm of suit styles and cuts, be prepared to be captivated by the sheer versatility and sophistication that MrGuild suits bring to the table. From athletic fit to Italian tailoring, each style possesses its unique charm and allure. In this enlightening exploration, we will delve into the intricate relationship between suit cuts, styles, and sizing.
Athletic Fit
If you have a more muscular build, our athletic fit suits are designed just for you. These suits feature slightly wider shoulders and chest area, providing ample room for broad shoulders and a well-defined physique. The tapered waistline offers a fitted look while ensuring freedom of movement.
Skinny Fit
If you prefer a sleek and modern look, our skinny fit suits are tailored to perfection. Characterized by their narrow cut and slim silhouette, these suits feature a narrow lapel, shorter jacket length, and a tighter fit throughout the body, including the waist and sleeves.
Fitted
For a sharp and tailored appearance, our fitted suits are crafted to hug your body. They offer a contemporary fit without being as tight as a skinny fit suit. With a slightly tapered waistline and a narrower fit in the arms and legs, our fitted suits create a refined and polished silhouette.
Slim Fit
Seeking a stylish and modern look? Our slim fit suits are a popular choice. They provide a narrower fit compared to traditional cuts, with a slightly tapered waistline and a closer fit around the chest and shoulders.
Big and Large Suits
Designed for men with a larger body type, our large suits offer comfort without compromising style. Also known as regular or classic fit suits, they provide more room in the chest, waist, and hip areas. With a straighter cut and a generous fit throughout the body, these suits ensure a comfortable and confident look.
Now, we delve into a world of exquisite suit styles:
2-Piece Suits
Our classic 2-piece suits, composed of a jacket and trousers, offer versatility for various occasions. Whether it's a formal business setting or a semi-formal event, these suits serve as a foundational style that effortlessly pairs with different shirts and accessories. When it comes to sizing, we offer a range of sizes to accommodate different body types, ensuring a comfortable and flattering fit.
3-Piece Suits
Elevate your outfit with a 3-piece suit, which includes a jacket, trousers, and a matching waistcoat (vest). This additional layer of sophistication and formality allows you to adapt your look to different settings. The waistcoat can be worn with or without the jacket, offering flexibility and refined style. Our 3-piece suits come in various sizes, ensuring you find the perfect fit for each component.
Casual Suits
Our casual suits embody a relaxed and informal aesthetic. Featuring lighter fabrics, bolder patterns, and more relaxed cuts, they add a touch of elegance to smart-casual ensembles or events with a less strict dress code. Our casual suits are available in a range of sizes, ensuring a comfortable and stylish fit for every individual.
Double Breasted Suits
Exuding classic and elegant style, our double-breasted suits feature overlapping front flaps and two parallel columns of buttons. Available in slim or traditional fits, these suits are often associated with formal occasions. We offer both 2-piece and 3-piece variations of double-breasted in different sizes to accommodate various body types, ensuring a polished and tailored appearance.
Italian Suits
Our Italian suits are renowned for their sleek and slim-fitting designs, representing the epitome of style. With high armholes, a pronounced waist suppression, and a shorter jacket length, they exemplify meticulous attention to detail and craftsmanship. Our Italian suits are available in a range of sizes, ensuring a precise fit that accentuates your physique and provides a sophisticated and fashionable appearance.
Tailored Suits
Our tailored suits offer the ultimate fit and customization, as they are crafted specifically to your exact measurements and preferences. Our team of professional tailors takes precise measurements to create unique suits for you. From fabric selection to style choices and detailing, tailored suits ensure the perfect fit and allow for personalized customization. With our tailored suits, you can expect unparalleled comfort and a refined look tailored to your body shape and individual style.
Body Types and Suit Fits
The right suit is a harmonious blend of comfort, confidence, and personal style. Not all suits are created equal. Just as our bodies come in different shapes and sizes, so do the suits that flatter them. The best options for each physique will be revealed as we explore the world of body types, and the suit fits in this exploration. Let's dive in and explore how to find your suit size by unraveling the intricacies of determining your ideal match!
Athletic Body Type
If you have broad shoulders, a well-defined chest, and a narrow waist, you possess an athletic body type. Celebrate your muscular build by opting for an athletic fit suit. This style offers ample space in the shoulders and chest while elegantly tapering down at the waist. The result? A sleek and trim silhouette that perfectly enhances your athletic physique. Step out with confidence and showcase your hard-earned muscles in style!
Slender Body Type
The slender body type is the calling card for those with a lean and delicate frame. With a relatively small bone structure and slim proportions throughout your body, you can rock a slim-fit suit like no other. The slim-fit suit jacket is tailored to snugly fit your body, creating a modern and streamlined appearance. Look effortlessly fashionable and sophisticated without sacrificing comfort.
Fitted Body Type
If your physique boasts a well-proportioned build with an even distribution of weight and muscle, you have a fitted body type. Individuals with this body type typically have average-sized shoulders, a moderate chest, and a defined waist. Fitted suits are your perfect match. Designed to offer a balanced fit, these suits neither hang loosely nor feel constricting. The jacket skims your body gracefully, while the trousers provide a comfortable yet tailored fit.
Skinny Body Type
For those with a slim and narrow frame, the skinny body type defines your unique charm. Thin shoulders, a small chest, and a narrow waist characterize this physique. To accentuate your sleekness, opt for a skinny fit suit. This ultra-slim and fashion-forward style features narrow shoulders, a shorter jacket length, and tapered trousers. The result? A contemporary and trendy appearance that perfectly complements your slim build.
Large Body Type
If you have a broader and more substantial build, the large body type is your canvas for style. With wider shoulders, a fuller chest, and a wider waist, you exude a strong presence. Embrace it with big and large suits tailored specifically to accommodate your proportions. These suits provide a relaxed fit, offering ample room for movement and comfort. The trousers have a generous cut, ensuring a comfortable fit without appearing excessively baggy.
Tips for Choosing the Perfect Suit Fit
Get Accurate Measurements
Ensure precise measurements of your chest, waist, hips, and inseam. Utilize a measuring tape or seek professional assistance for the most accurate results.
Suit Your Body Type
Opt for a suit that compliments your body type. Take note of the suit's shoulder width, chest, waist, and trouser length to find a flattering fit.
Explore Different Sizes and Styles
Experiment with various sizes and styles to discover the most flattering fit for your body type. Try on regular and slim fit options to compare and find your ideal match.
Tailoring for Perfection
If you come across a suit that fits well but needs minor adjustments, consider tailoring it for the perfect fit.
Occasion and Personal Style
Take into account both the occasion and your personal style when selecting a suit. Classic suits are typically suitable for formal events, while casual occasions allow for more freedom to explore contemporary styles.
The Complete Size Chart with Conversions
With variations in measurement standards across regions like the US, UK, and EU, it's crucial to understand the art of converting between these systems. The US sizing system employs numeric values for key measurements like chest, waist, and hips. For instance, if you come across a US-size 40 suit jacket, it signifies a 40-inch chest measurement. Simple enough, right?
UK sizes are typically four inches smaller than their US counterparts. Therefore, a UK size 40 jacket would correspond to a 44-inch chest measurement in the US.
To determine your EU suit size, you'll need to subtract a specific number of centimeters from your measurement. For example, if you measure 100 cm around your chest, you might find that an EU size 50 jacket is the perfect fit for you.
Size Chart
| SIZE | 34 | 36 | 38 | 40 | 42 | 44 | 46 | 48 | 50 |
| --- | --- | --- | --- | --- | --- | --- | --- | --- | --- |
| CHEST | 48 | 50 | 52 | 54 | 56 | 58 | 60 | 62 | 64 |
| STOMACH (buttons fastened) | 44 | 45 | 47 | 49 | 51 | 53 | 55 | 57 | 58 |
| BLAZER LENGTH (buttons fastened) | 70 | 71 | 72 | 73 | 74 | 75 | 76 | 77 | 75 |
| SLEEVE LENGHT | 62,5 | 62,5 | 63,5 | 64,5 | 65,5 | 66,5 | 67,5 | 68,5 | 69,5 |
| SINGLE SHOULDER | 13,6 | 13,9 | 14,2 | 14,5 | 14,8 | 15,1 | 15,4 | 15,7 | 16 |
| SHOULDER TO SHOULDER | 42 | 43 | 44 | 45 | 46 | 47 | 48 | 49 | 50 |
| WRIST SIZE (circumference) | 12,6 | 12,9 | 13,2 | 13,5 | 13,8 | 14,1 | 14,4 | 14,7 | 15 |
| BICEPS (circumference) | 18,2 | 18,6 | 19 | 19,4 | 19,8 | 20,2 | 20,6 | 21 | 21,4 |
All measurements are in centimeters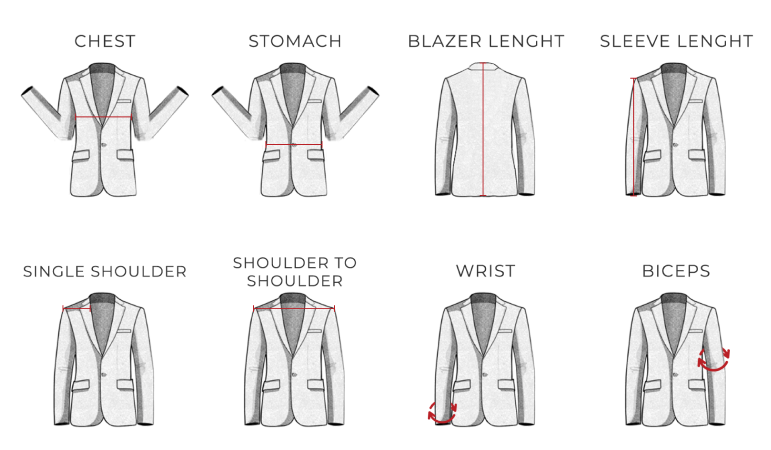 FAQ
What's the best way to take my own measurements?
To get accurate measurements, grab a flexible tape measure and wrap it comfortably around your chest, waist, and hips. Make sure to stand up straight and breathe normally while measuring the fullest parts.
How can I find a tailor for professional measurements?
If you're looking for a tailor, it's worth checking out online reviews or visiting local men's clothing stores. Many of these stores have skilled in-house tailors who can provide assistance.
How do I adjust for weight gain or loss after purchasing a suit?
In case you've gained weight, it's a good idea to consider having the suit altered by a tailor to ensure a better fit. If you're planning on losing weight, alterations might still be possible, but it's best to consult with a professional to determine the extent of the adjustments required.
How do I choose the right fit for my body type?
For detailed guidance on finding the perfect fit for your body type, you can find valuable information in MrGuild's blog post titled "The Ultimate Guide to Men's Suit Size Charts: How to Get the Perfect Fit," specifically the section on "Body Types and Suit Fits."
How can I find my suit size?
To discover the ideal suit size, MrGuild's blog post, "The Ultimate Guide to Men's Suit Size Charts: How to Get the Perfect Fit" offers valuable insights.
Should I round up or down when selecting a size?
If you're unsure about your size and fall in between sizes, it's generally recommended to round up. It's easier to alter a slightly larger suit than to make a smaller one fit comfortably.
How does sizing vary between different brands and designers?
Remember to always refer to the brand's specific size chart and measurements. Don't assume that your size in one brand will automatically be the same in another.
Can I get a good fit with an off-the-rack suit, or should I always get one tailored?
Off-the-rack suits can fit many people well, but for an exceptional fit and a polished look, consider investing in tailoring if your budget allows.
What measurements should I take to find the right size jacket or suit?
Important measurements to consider include chest, waist, hips, sleeve length, and jacket length. Use these measurements as a helpful guide when consulting the brand's size chart.
What's the difference between a slim-fit and a regular-fit jacket or suit?
Slim-fit suits offer a sleek and modern silhouette as they are tailored closer to the body. On the other hand, regular-fit suits provide a more relaxed and traditional fit. For more detailed advice on finding the ideal fit for your body type, refer to MrGuild's blog post on "The Ultimate Guide to Men's Suit Size Charts: How to Get the Perfect Fit" in the section discussing "Body Types and Suit Fits."
How can I find my suit size?
To discover the ideal suit size, MrGuild's blog post, "The Ultimate Guide to Men's Suit Size Charts: How to Get the Perfect Fit" offers valuable insights.
What is the meaning of '38R' in men's suits?
The designation "38R" in men's suits pertains to a particular size and style of the jacket. "38" signifies the chest measurement, while the letter "R" denotes the jacket's length as "Regular.
How can I know my suit size?
To find your suit size, it is necessary to take measurements of your chest, waist, and inseam.
To discover the ideal suit size, MrGuild's blog post, "The Ultimate Guide to Men's Suit Size Charts: How to Get the Perfect Fit" offers valuable insights.